Over 250 of our co-workers were recognised for their outstanding achievements on Friday 16 November 2018 at our annual awards evening, held this year at Novotel Southampton.
The team were presented with awards for outstanding achievements by guest presenters including Stephanie Regular, NatWest Assistant Relationship Manager (North Hampshire CBC), Graham Stead, Client Relationship Director of CMI (IT service providers), Paul Temple from Basingstoke & Deane Rotary Club and Director at Basingstoke Gymnastics Club, and Michelle Payne, Area Manager, South West Adult Services – National Autistic Society.
Our founder and Chair of Directors, Marion Cornick MBE opened the evening by thanking everyone for their contribution to making the company so successful in the important work they do supporting some of the most vulnerable individuals in the community.
Addressing the co-workers at the awards, Marion Cornick MBE said: "We couldn't do any of what we do without the amazing dedication and support of all of you.  Thank you for everything you do, and keep up the excellent work".
Marion also presented her daughter, Deborah Cornick, Managing Director with a special Business Development Award.  Presenting the award, Marion said "When my husband Tim passed away in 2001, Deborah gave up her career to help me run the business.  Under her guidance, we have grown the company to the current 11 homes that we have and are now a major employer with over 260 people working for us.  This is to say thank you for everything Deborah has done and continues to do for the business".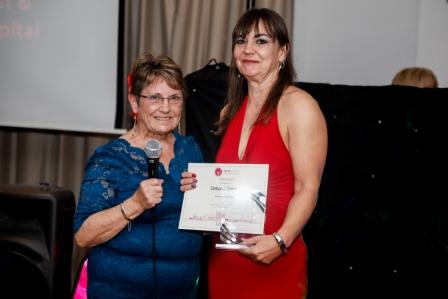 Marion Cornick, MBE, Chair of Directors with Managing Director, Deborah Cornick
Deborah added her thanks to the room saying "This is our opportunity to thank all of you for doing such an amazing job in the homes and offices all year.  We really appreciate everything you do.  And of course, we mustn't forget those co-workers who couldn't join us this evening for one reason or another – particularly those who are working caring for our very special people".
A number of awards were presented on the night including Best Newcomer and Making a Positive Change, but sweeping the board for yet another year with an impressive three awards was Basingstoke Shift Leader, Martha Amaazee who won in three categories all focused on excellence in delivering personalised support.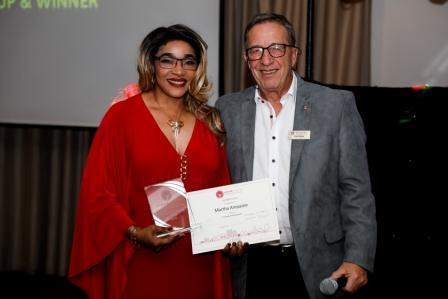 Triple award winner Martha Amaazee with Paul Temple, from Basingstoke & Deane Rotary Club and Director at Basingstoke Gymnastics Club
The winners of the Teamwork award were 'Applelea', one of the Basingstoke homes.  They were presented their award by our Positive Support Director Henrik Holgersen who said "This year Applelea underwent a large redesign and build project making the environment even more bespoke to the needs of the people who live there. Throughout the build, the team remained positive and did an outstanding job supporting the service users ensuring any disruption to their lives was well managed. The team also put a lot of work into preparing the service users for their new environment.
With the manager, the team worked very hard to prepare for their 2-day long CQC inspection which earned them a well-deserved excellent report, more evidence, as if it were needed, of the great team effort at Applelea.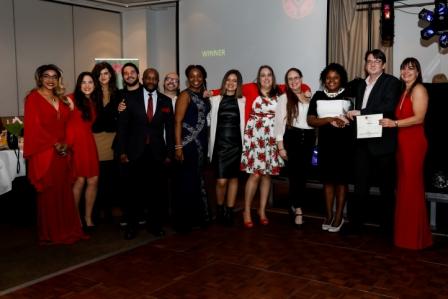 Deborah Cornick and Henrik Holgersen with the winning team from Applelea
Chair of Directors, Marion Cornick also presented a donation to Bone Cancer Research and Oxford Hospital charities.  Graham Stead who accepted the donation on behalf of the charities said: "This is a cause that I am personally involved with raising funds for and we are very grateful for the donation which will be put to good use.  75% goes to Bone Cancer Research where the money is used to fund research, provide guidance and support to those impacted by Bone Cancer, and raise awareness of the disease and its symptoms.  25% goes to The Oxford Hospitals Charity, who are very directly using the fundraising to help with care in Kamrans Ward – the children's cancer ward. They are replacing the monitoring systems that are used to care for the kids. Each new monitor costs about £5,000 and is a significant improvement on existing monitoring equipment. So far, we have raised £95,000 for the two charities in total, including Gift Aid, so the 25% for Kamrans is nearly £25,000 which has fully paid for 5 of these monitors; nearly half of the number required to fully re-kit Kamrans!".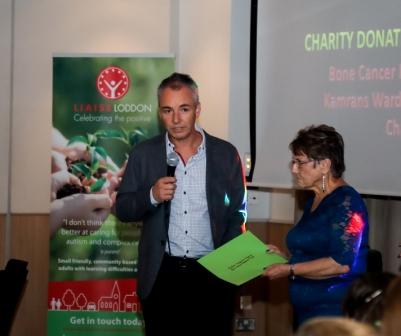 Graham Stead & Marion Cornick MBE
To find out how you can start a career with us, go to this link www.liaise.com.