Every August at Liaise, we hold our own answer to Glastonbury – MFest. Usually, the festival is held in the garden at Marika House (big garden!). It was originally started in 2017, as we realised that although so many of us can enjoy music festivals throughout the summer, it is not a possibility for our service users, so we decided if they couldn't go to a festival, we would bring the festival to them.
There is usually a stage with professional musicians playing throughout the whole day – the service users are welcome to join them on stage if they wish, face painting, a 'bar' (soft homemade drinks), a cake stall, a burger van, ice cream van, massage area (last year we also had gong massage – amazing!), drama & Storytime sessions, a festival song that everyone learns in Makaton, balloon modelling, usually a clown and achievement certificates are awarded to all of the service users.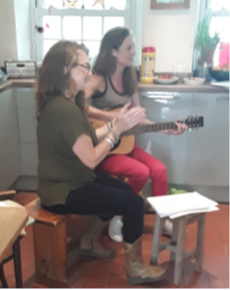 Virtual MFest hosts, Positive Support Lead, George, & Drama Therapist, Fran
Obviously, this year it had to be a virtual festival, live-streamed to all homes, but still with lots of interaction.  The theme that was chosen was Superheroes, in recognition of the incredible dedication shown by our co-workers, particularly with the challenges that 2020 has bought.
We were lucky enough to have an exclusive performance just for us by a Southampton-based band The Dead Freights
Although it was a very different festival this year, everyone still had a fantastic time.  Let's hope next year, we can return to a live event!!