Happy anniversary to us! On 1st October 1995, Liaise opened our first home – Cornfields. 25 years later we have a portfolio of 11 Liaise homes and are now part of a much larger organisation – Liaise. It's been an incredible journey, full of highs & lows, fun, laughter and sometimes tears, but most of all it's been full of dedication from every person who has ever been a part of the Liaise family. All of our amazing co-workers, past and present, made this unique company what it is.
Cathie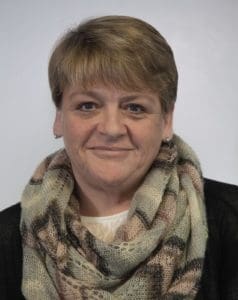 On that same day 25 years ago, Cathie Wyatt joined Liaise – she opened Cornfields and became Registered Manager there – 25 years later, she is Director of Care, but her dedication and passion for the people we support is just as strong as it was all those years ago. Some know her as a director, some as a co-worker, and many as a good friend.  We were hoping to have a big celebration with her, but due to the situation with COVID-19, this has not been possible. So, she had a mini celebration with Henrik, from the Positive Support team & Carol, the Directors' PA who had compiled a presentation of pictures and memories collected from past & present members of the Liaise team, and some of the service users – it made her smile, cry and laugh in equal measures. Thank you to everyone who contributed.
Congratulations Cathie and thank you from all of us.