A few weeks ago, one of our homes, Glebelands, in Wallis Road, Basingstoke received an email from the Mayor of Basingstoke's office, asking the manager if he would like to book a Zoom meeting with the Mayor so that she could find out more about the work we do.
Damian Hinds-Small (Glebelands registered manager) replied and explained a bit about what we do and the extra hard work that all of the co-workers have been putting in over the last few months. He received a call from the Mayor's office to say that they would actually like a face to face meeting to thank everyone in person.
So, last Friday, Councillor Taylor & her husband Andy visited Glebelands to meet some of the co-workers – they obviously met outside (all of our homes have been closed to all but essential visitors since the beginning of lockdown to protect everyone as much as possible) & observed social distancing.The Mayor posted this on Facebook following her visit.
It was a treat to visit some people in person today rather than via a computer screen.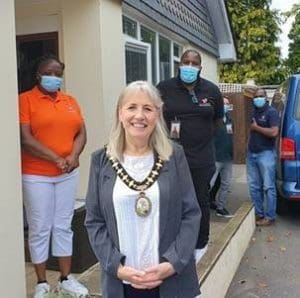 Andy and I met with some of the staff of Glebelands (outside and appropriately distanced, of course) which is home to several vulnerable young men in Basingstoke town.
Glebelands is part of Liaise which does absolutely superb work supporting and housing people with autism and severe learning difficulties. Damian and his staff at Glebelands have managed, through the lockdown period, to keep their residents well, happy and occupied. It is heart warming to hear about the dedicated care that these young residents have been receiving throughout the Covid-19 emergency. @Liaise #clapforourcarers
Liaise provides small, friendly, community-based homes to adults with severe learning difficulties, usually associated with autism. We give the people we support the power to take as much control as they can to live happy and fulfilling lives.
The organisation has 11 care homes based in the Basingstoke area and Romsey in Hampshire and are part of Liaise. Find out more at www.liaise.com about our work and the homes. Or to find out more about a career with us, email people@liaise.com