In April's Service User meeting the discussion was focused on the garden and outside ventures. One of the things that really sparked an interest was the garden. There were lots of ideas and discussions, hanging baskets, mobiles and a pond or water feature.
They discussed where it could go and how it would look.
Carly, our deputy started clearing the ground outside the veranda, Service users supported her with help and advice and one of their family members saw her working and offered to donate a pond to the Service, everyone was so happy!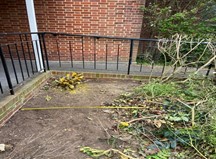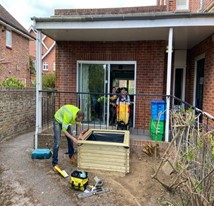 Everyone wanted to be involved and came to supervise at some point during the construction!
Plans for the next stage are taking place and below is our next shopping list:
Plants
Hanging baskets
Fish!
Mobiles
Pump and fountain
Flowers
Everyone wants to help with choosing fish and plants to go in the pond and this will be the focus of the next Service User meeting. Also, we need some hanging baskets and mobiles to put a round. Andy is going to build a gate at the end of the veranda and repair our handrail. Exciting times!