In the last three years, Thomas who lives in one of our homes has been to every Varsity Pro Wrestling show (VPW) which has come to Basingstoke to see his favourite wrestler 'Ruthless' Rob Holte and always waits after shows to congratulate the Basingstoke-born grappler, win or lose.
As a festive surprise, Mr Holte visited Thomas on December 21 to give him an early Christmas present. As soon as the wrestler walked through the door, Thomas' face lit up and he ran over to give his hero a big hug.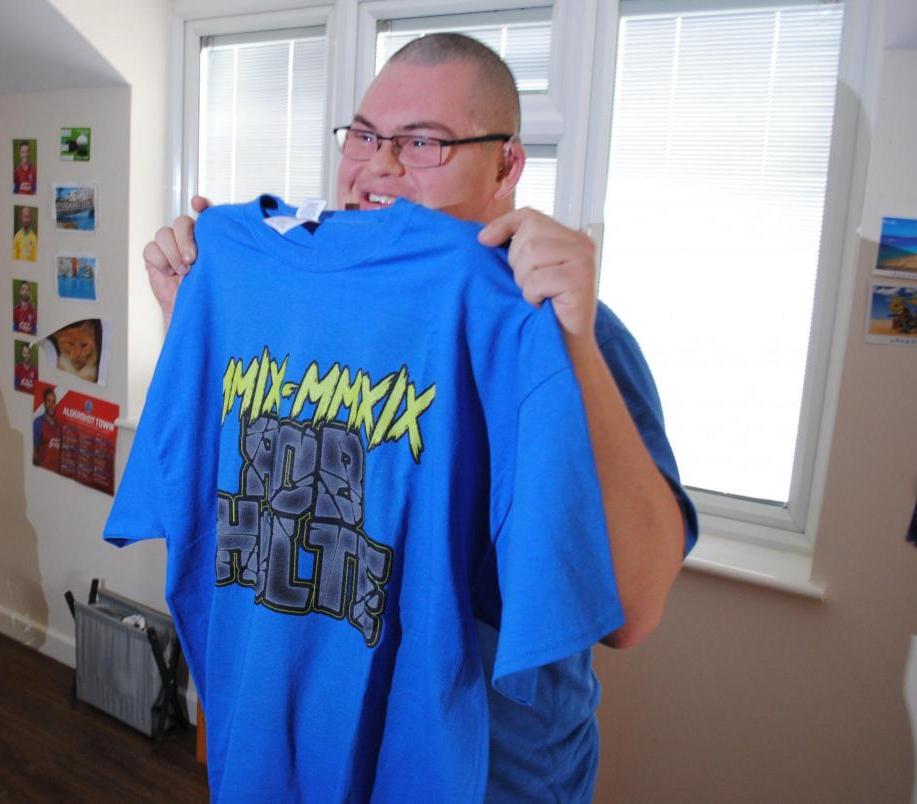 After a tour of the home, Mr Holte presented him with a one-of-a-kind t-shirt which no one else in the world currently has.
The Basingstoke Gazette were also there to report on the event and Mr Holte said to them: "As entertainers, we are nothing without our fans so being able to give something back is great.  Just seeing the look on Thomas' face when I walked through the door was incredible and it makes you feel like what we do is worth it."
The surprise was arranged by the deputy manager of the house, Ian Wallis, who attends all of the VPW shows with Thomas.
Ian said: "The whole thing came about by chance when I bumped into Rob at Morrisons. We got talking as I said that Thomas was looking forward to the next show. One thing led to another and he said he would come and surprise Thomas. "The whole experience has just been incredible for him [Thomas] and you can just see how happy it has made him."
Ian said since going to the wrestling, Thomas has been inspired by his hero and has started going to the gym. He has lost 10 lbs in four weeks.  Throughout the tour, Thomas said he wanted to join Mr Holte in the ring to fight his foe, Warren Brady.
When asked why Holte was his favourite, Thomas said: "Because he is from Basingstoke, he's the pride of Basingstoke.  I want to say a big thank you to Rob for coming to see me."