We have a few busy weeks ahead of us and then a busy year!
The Conference
This week, I am running a workshop at The Training and Consultancy Annual Conference on Promoting Wellbeing. Presenting isn't one of my favourite things to do, but how could I resist talking about the work that we are starting to do at Liaise on Mindfulness!
PROACT-SCIPr-UK(r) instructors come from across the country to listen to renowned speakers sharing new ideas and recent research.
This is a great opportunity for our many instructors to network with other professionals within our sector, sharing the work that we are doing and getting new ideas of how to continue to provide increasingly personalised support.
Annual Awards Evening
Next week, we have our annual co-worker awards evening. This is a great time to celebrate the hard work and dedication of everyone who works are Liaise. This year, we are also celebrating the organisation's 20th birthday! Watch out for pictures and check out our twitter feed for (hopefully) some live updates on the night.
Another visit to Zambia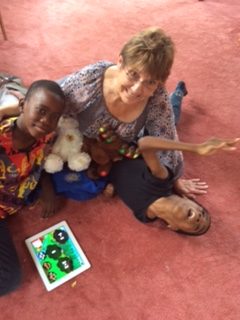 And then, the week after that, Marion is heading back over to Zambia to continue the work of sharing good practices with the teachers at UTH Special School in Lusaka.
Because of the great successes that they have had, the staff at the school arranges a conference to share information with others and the Ministry of Education is now interested!
Watch out for an update from Marion later on in November.
New Homes!
We have our new single-person service, Marika 3, being built and everything is all to plan and we are aiming for a Christmas opening.
Also, we have now made offers on some new houses. It is our aim to be able to support another 3 or 4 individuals in Basingstoke by April 2016 and then another 4 in the Romsey area a few months later. We are so excited to talk about this but really should wait until all the legal stuff is in place.
We will be looking to recruit new co-workers in a range of roles in both the Basingstoke and Romsey areas. Please contact us if you want to find out more – you can register on our recruitment page to get updates on new positions as they come up.
Keep in Touch
So, follow us on Twitter, like us on Facebook, and check back on our blogs – it is going to be a really exciting time at Liaise!
Deborah Cornick, Managing Director