At Liaise we help people thrive by working with families to achieve special experiences for people we support such as going to Disneyland Paris. Ruggero Plantanio from our Meridian home worked with FAY to support him along with his family throughout the planning process.
FAY had this to say: "I really enjoyed this trip; it was a very good experience as I love Disneyland. I was very confident and I could control myself and I had lots of fun as I like the rides, especially Big Thunder Mountain. I really liked to see Minnie and the other Disney characters."
Ruggero told us "It was a lovely experience that I enjoyed greatly, it went very well and I could see FAY enjoying every day of the holiday; it also gave me the opportunity to get to know FAY better including his likes, preferences, views and ways of coping with daily events. I believe this trip helped create a stronger relationship between the staff at Meridian and FAY."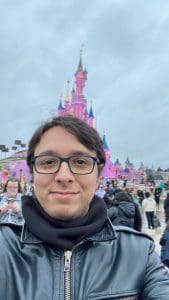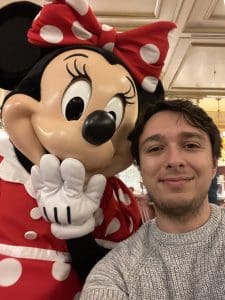 If you'd like a job that takes you to Disneyland Paris, as well as a range of other perks like a fully funded Blue Light Discount Card, additional long service leave and a new starter bonus as well as being in a role that helps people live their best lives, take a look at our careers page.